Welcome to Surfract.com
Surfract provides software and services for analyzing surface texture, or roughness, to support quality control, product and process design, and research.
Sfrax 1.0 Now Available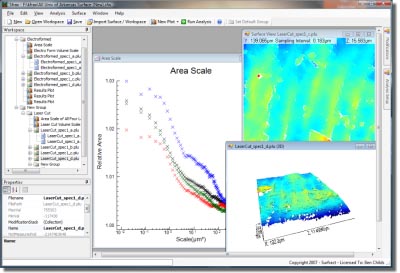 Sfrax 1.0 has been officially released. To download the latest version or register for a Trial copy go to http://licensing.surfract.com.
New features include built in statistical differentiation and correlation as well as support for many more different analyses including:
Area-scale, Length-scale Fractal Analyses
Peak-to-Peak and Filling (2D / 3D) Analyses
Length Scale Anisotropy, Digs and Scratches (Experimental)
In addition Sfrax provides an extensible interface that allows for additional analyses to be made available from both Surfract and third-parties.
For more information or to pre-order Sfrax please see our Products and Purchasing pages.
Surfract Featured in Nature Magazine
Recently featured in a paper in Nature magazine (Dental microwear texture analysis shows within species diet variability in fossil hominins), we have developed a simple user interface (Toothfrax) to allow anyone to perform the analyses described in that paper. For more information please contact us at support@surfract.com.
Kfrax Analyis System and DLL's now Available
As of August 4, 2005 the Kfrax Analysis System and Kfrax DLL's are now available. For more details on this release please see our products page.
Supporting the latest ASME B46 fractal standard, Surfract's software package, KFrax, provides a variety of surface analysis algorithms including a patented Area-scale analysis.
In addition, Surfract provides consulting services including:
Analysis
Custom Development
Research
Education
With a breadth of applications across many industries, Surfract's specialized fractal analysis has been used in analysis of many different surfaces including:
In collaboration with the WPI Surface Metrology Lab, Surfract has participated in groundbreaking research. With Christopher A. Brown, Ph.D., PE, Surfract has over sixteen years of experience applying specialized, scale-sensitive fractal analyses to measured surfaces and profiles. We invented and patented area-scale analysis for surface texture, and we have experience with many types of surfaces and applications from runways to skin, contact lenses and hard disks.
Our specialized analyses can relate surface texture to product performance, manufacturing processes, and surface behavior where conventional analysis cannot.