Sfrax 1.0
Surfract is pleased to announce that Sfrax, an extensible Fractal Analysis platform is now available. Sfrax provides substantial improvements over the previous release (Kfrax). To register for a trial of sfrax please see our licensing page at: http://licensing.surfract.com.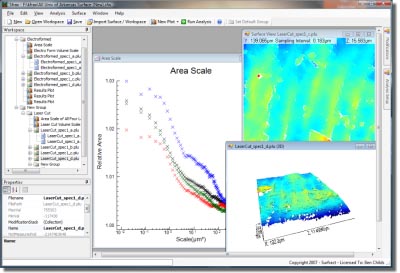 New features include built in statistical differentiation and correlation as well as support for many more different analyses including:
Area-scale, Length-scale Fractal Analyses
Peak-to-Peak and Filling (2D / 3D) Analyses
Length Scale Anisotropy, Digs and Scratches (Experimental)
In addition Sfrax provides an extensible interface that allows for additional analyses to be made available from both Surfract and third-parties.
To pre-order Sfrax please see our Purchasing page.
Features
Sfrax provides a integrated environment for analyzing, visualizing, differentiating and correlating many surfaces. It allows the user to load all of their surface measurements into one workspace and then compare and contrast different analyses.
Analysis
Surface Analysis
Sfrax includes several standardized analysis methods including:
In addition it provides several types of analyses that have been developed but not yet standardized:
Filling (2D and 3D)
Peak-to-Peak
Finally it includes several experimental plugins including:
Length-scale Anisotropy
Radius-scale
Digs and Scratches
Length-scale Lengths
For more information about these analysis methods, references, or any other questions please contact us at support@surfract.com.
Differentiation
Sfrax includes support for a statistical F-Test differentiation, which provides a measure of how differentiable two groups of surfaces are based on a particular analysis.
This is useful especially in quantifying to some confidence whether two groups of surfaces can be differentiated using Area-scale, Length-scale or any of our other algorithms.
Correlation
Finally Sfrax includes support for correlation between analysis and surface properties. This can be used to correlate, for instance, relative area (Area-scale analysis) and adhesive strength, or relative length (Length-scale) and resistance.
Surface Loading Support
We currently support a variety of formats including (*.sdf, *.sur (Mountains), *.scn (WPI SLM), *.opd (WYKO), *.plu, *.stp). We also support a number of ascii formats including some VRML, csv and asc files. Finally we support loading TIFF and BMP files.
If you have a question regarding a specific format please feel free to email us at support@surfract.com.
Reporting
Sfrax includes advanced plotting features in addition to data export. Plots and Data can be easily incorporated from Sfrax into Word / Powerpoint / Excel.
Plots in Sfrax support showing multiple data series that may be grouped in order to highlight differences and similarities. In addition it provides robust configuration in order to change the styles of axes, plot labels, symbols as well as the legend.
Sfrax also provides export of data to csv files that can be easily loaded into programs such as Excel and Matlab for further analysis.
Visualization
In addition to it's built in plotting features, Sfrax supports both 2D and 3D surface visualization. In addition it provides support for viewing the tiles used in Area-scale, Length-scale and Peak-to-Peak analysis.
These visualization tools help users to understand exactly how these analyses work and can also be used as explanatory figures in presentations or papers.
Extensibility
Sfrax features an extensible architecture which allows for custom analyses, correlations, surface modifications, and visualizations. In fact several plug-ins developed in collaboration with the WPI Surface Metrology Lab and the NSF are included with the Sfrax installer as an optional component.
For more information on the extensibility, or if you are interested in writing your own analyses using Sfrax tools, please feel free to contact us at support@surfract.com.
System Requirements
We currently support Sfrax running on the following Operating Systems:
Windows Vista (32 / 64 bit)
Windows XP (32 bit)
Windows 2000
In addition you will need a system with the following specifications in order to run Sfrax
Processor: Pentium 4, Athlon XP or newer. (Athlon 64 X2, Intel Core 2 Duo or better recommended)
Memory: 512mb (1gb or more recommended)
Hard disk space: 20mb for the program (additional space (> 1gb) required for caching data)
Graphics Card: Any card supporting 3D acceleration for 3D surface visualization (GeForce 3 / Radeon 8000 or newer reccomended)
Internet: Connection required for download and activation only.
If you have any specific questions as to whether your system can run Sfrax feel free to contact us at support@surfract.com.